USS Fiske (DE-143)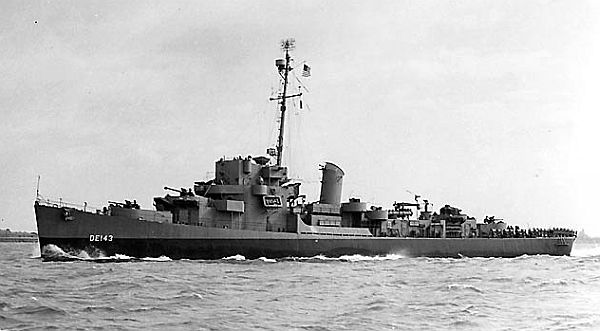 sunk after being torpedoed by German submarine U-804 north of Azores, 2 August 1944
Navy
US Navy
Type
Destroyer Escort
Class
Edsall
Pennant
DE 143
Built by
Consolidated Steel Corp., Ltd. (Orange, Texas, U.S.A.)
Laid down
4 Jan 1943
Launched
14 Mar 1943
Commissioned
25 August 1943 (Commander Lt. Robert Power Walker, USN)
Lost
2 August 1944
Loss position
47º11'N, 33º29'W
History
On 2 August 1944, USS Fiske was part of the hunter-killer Task Group 22.6 formed around the escort carrier USS Wake Island (CVE 65) and was detached together with the destroyer escort USS Douglas L. Howard (DE 138) to investigate a visual contact about 800 nautical miles east of Cape Race, Newfoundland. The surfaced U-804 quickly dived and fired at 15.36 hours three Gnats on the approaching ships. The first missed, but after 3 minutes the second hit the USS Fiske on her starboard side amidships and the third struck her after 4 minutes 30 seconds, breaking her in two sinking in position 47º11'N, 33º29'W.

Taking 33 crew with her.

The survivors, among them 50 wounded men abandoned ship and were picked up by the destroyer escort USS Farquhar (DE 139), which took them to Argentina for medical attention and then to Boston.

Hit by U-boat
Sunk on 2 Aug 1944 by U-804 (Meyer).