USS Reuben James (DD-245)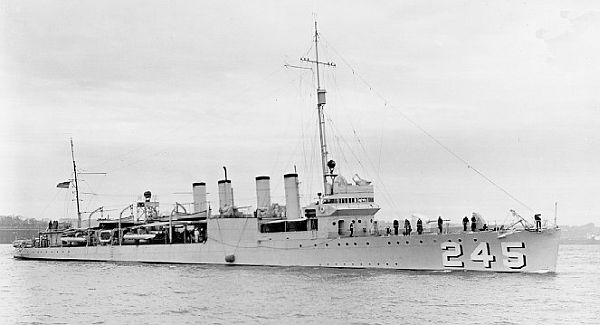 Navy
US Navy
Type
Destroyer
Class
Clemson
Pennant
DD 245
Built by
New York Shipbuilding Corp. (Camden, New Jersey, U.S.A.)
Laid down
2 Apr 1919
Launched
4 Oct 1919
Commissioned
24 Sep 1920
Lost
31 Oct 1941
Loss position
51.59N, 27.05W
History
Reuben James was decommissioned at Philadelphia, Pennsylvania, on 20 January 1931 and recommissioned there on 9 March 1932.

USS Reuben James (Lt.Cdr. Heywood Lane Edwards, USN) was escorting convoy HX-156 with four other destroyers of the US Escort Group 4.1.3. and at 0834 hours was hit by a torpedo in position 51º59'N, 27º05'W, which ignited the ammunition in the forward magazine. The explosion split the ship in two, the forward section sank immediately taking all hands on that part of the ship with her. As the stern sank the depth charges exploded and killed some survivors in the water. The destroyer USS Niblack (DD 424) rescued 36 men (one of them died of wounds on 2. November) and USS Hilary P. Jones (DD 427) picked up 10 more. 115 of the crew were killed including all the officers.

Hit by U-boat
Sunk on 31 Oct 1941 by U-552 (Topp).