USS Meredith (ii)(DD-726)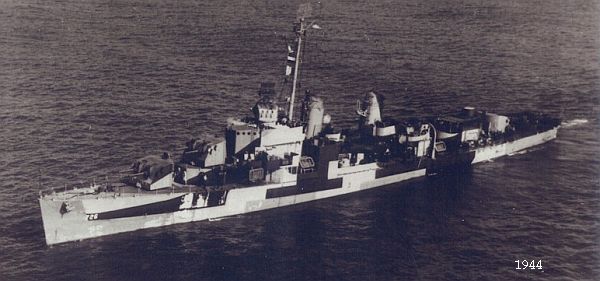 Navy
US Navy
Type
Destroyer
Class
Sumner
Pennant
DD 726
Built by
Bath Iron Works (Bath, Maine, U.S.A.)
Laid down
26 Jul 1943
Launched
21 Dec 1943
Commissioned
14 Mar 1944
Lost
9 Jun 1944
Loss position
49.27N, 01.00W in the Bay of the Seine,
History
USS Meredith (Cmdr George Knuepfer, USN) was sunk by a near miss after being bombed by German aircraft on 9 June 1944. The ship was already badly damaged after hitting a mine off Utah Beach during the Normandy invasion the previous day. 35 of the ships crew were lost and 322 of her survivors were rescued by USS Bates and PC 1232/1262 and 26 were wounded.Amongst the survivors was the Commanding officer.
The wreck lies in 19 meter of water in position 49º27'13"N, 01º00'19"W.