USS Barton (i) (DD-599) / USS Barton (ii) DD722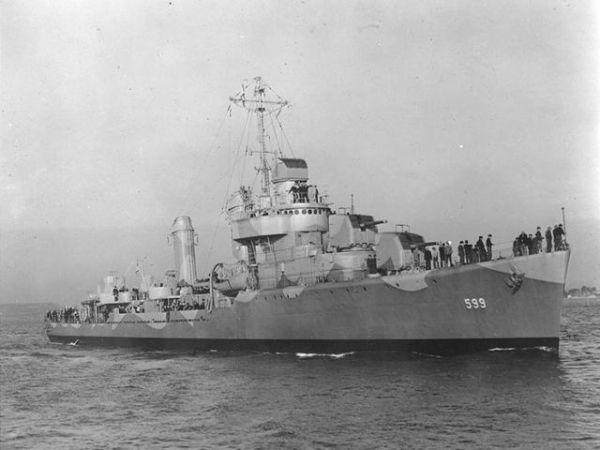 Photo courtesy of Angela Smith
Navy
USN

Type:

Destroyer

Class:

Benson

Pennant:

DD 599

Built by:

Bethlehem Steel Co., Quincy, Mass

Laid Down:

20 May 1941

Crew;

232

Launched:

31 January 1942

Commissioned:

29 May 1942

Decommissioned

13 November 1942

Lost:

13 November 1942 10°34'S, 161°44'E,

History:

Last hours of the USS Barton had just fired a full spread of torpedoes at the HIJMS Hiei when the Light Cruiser USS Helena appeared suddenly out of the darkness and cut directly across the bow of the Barton. Making an emergency stop to avoid colliding with the USS Helena, the Barton found herself at a dead stop as her engineering crew tried to get her engines back into gear to get her moving again. However, before she could get underway two 'Long Lance' torpedoes fired by the HIJMS Amatsukaze slammed into the mid-ships of the USS Barton; one in her boiler room and one in her engine room. The massive explosions broke the Barton in two and both sections sank within minutes of the first torpedo striking, carrying with her :

13 officers and 151 of her crew.

Forty-two survivors were rescued by USS Portland and twenty-six by Higgins boats from Guadalcanal.

USS Barton (ii) (DD 722)
Navy
US Navy
Type
Destroyer
Class
Allen M. Sumner
Pennant
DD 722
Built by
Bath Iron Works (Bath, Maine, U.S.A.)
Laid down
24 May 1943
Launched
10 Oct 1943
Commissioned
30 Dec 1943
History

Decommissioned 22 January 1947.




Recommissioned 11 April 1949.




Decommissioned at an unknown date.




Stricken 1 October 1968.




Sunk as a target off the coast of Virginia 8 October 1969.