History:
On 25th July 1941, while taking position in the screen of carriers preparing for the disastrous air strike against Kirkenes/Petsamo,
Achates
was mined and severely damaged,

54 crew were lost

but ship managed to make port for repairs.
On 8 November 1942, while deployed off Oran, Algeria for operation "Torch", Achates detected, and attacked and the Vichy French submarine Argonaute, which had sortied to contest the Allied landings in the area. The "Achates" attack on Argonaute, saw the inevitable rise of oil to the surface of the sea and huge air bubbles, as well as debris from both inside, and outside the U-boat.
Battle Honours
ATLANTIC 1940-42 - BISMARCK 1941 - NORTH AFRICA 1942 - ARCTIC 1942 - BARENTS SEA 1942
On 31 December 1942,
Achates
was on escort duty protecting the Russian convoy JW 51B en route from Loch Ewe to Murmansk when she was sunk in the Barents Sea 113 crew were lost and 81 were rescued, one of whom later died on the Northern Gem trawler which had come to the aid of The "Achates".
Northern Gem Trawler

A/Stoker 1c Leslie G Bowles, Achates, Killed in Action 31 December 1942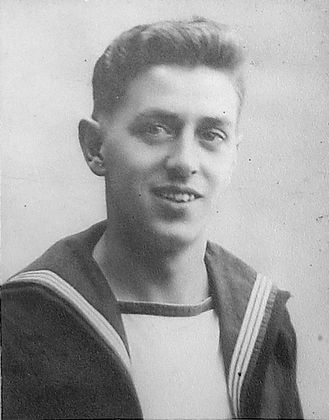 O/Sea Radar OP.P/JX 282889 Frederick Bean (Survivor)