HNoMS Aeger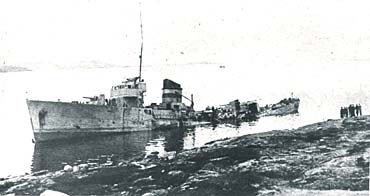 Aeger beached at Hundvag and abandoned

Navy
Royal Norwegian Navy
Type
Destroyer
Class
Sleipner
Pennant
Built by
Horten Navy Yard (Oslo, Norway)
Laid down
Launched
25 August, 1936
Commissioned
1937
Lost
9 April, 1940
Loss position
Aeger was beached at Hundvag
History
During the morning HNoMS Aeger was attacked by German JU-88 bombers from III/KG.4 from the recently captured Sola airfield. Aeger claim 2 bombers shot down (1 credited) before one bomb hit her aft of the funnel. Beached at Hundvag and abandoned.

8 men died

, 67 survived. HNoMS Aeger was a total loss.
Events

HNoMS Aeger stopped and inspected the German transport vessel Roda (6780 GRT) at Ulsnes in Stavanger, Norway. Aeger arrested Roda and ordered Roda to sail to Riska in Stavanger. Roda refused. The Commanding Officer of Aeger Nils Larsen Bruun decided to sink Roda. After the crew from Roda was safe in lifeboats, HNoMS Aeger fired 25 shells (10cm) 8 Apr, 1940 at Roda sinking her. Roda was loaded with AA guns and ammo.