HMS Wolfhound (D56)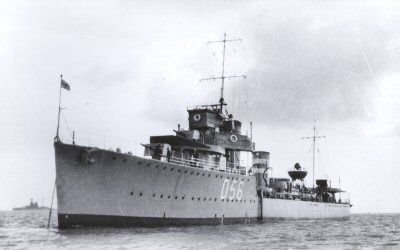 photograph from AB Fred Gillheard C/JX641432
Navy:
The Royal Navy
Type:
Destroyer
Class:
W
Pennant:
J56/ D56
Built by:
Fairfield Govan
Laid down:
Clyde Warship APRIL 1917
Launched:
Launched by Fairfield Govan, Yard No 535, on 14/3/1918,
Commissioned:
27th April 1918
Complement:

History.

164

8 January 1940 War Fast escort conversion at Chatham with 4 x 4in (2 x 2) guns.
1941 dive-bombed off east coast and broke in half the stern half was towed into port and she was rebuilt at Chatham 1941-43.
18/2/1948 sold and BU at Granton by Brechin.

Sold to be broken up for scrap on 18 February 1948.