HMS Broadway H90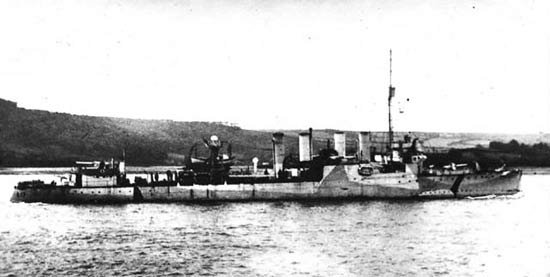 Navy:
RN
Type:
Destroyer
Class:
Town
Pennant:
H 90
Built by:
Newport News Shipbuilding and Dry Dock Co. (Newport News, Virginia, U.S.A.)
Laid down:
20 Aug, 1918
Launched:
14 Feb, 1920
Commissioned:
9 Oct, 1940
End service:
May, 1948
History:
HMS Broadway arrived at Belfast 24 October 1940, where she joined the 11th Escort Group, Western Approaches Command, with whom she engaged in escorting numerous convoys. On 9 May, with the help of destroyer HMS Bulldog and corvette HMS Aubretia, she captured German submarine U-110 between Iceland and Greenland. On the previous night, the U-boat had crept in to attack Broadway's convoy but was prevented from surfacing by the strong destroyer escort. She continued to shadow the Allied ships until early in the afternoon watch when she launched three torpedoes from periscope depth. HMS Broadway and her fellow escorts promptly counterattacked and forced her to surface where she surrendered. Unfortunately the prize sank while in tow to port but only after her captors had recovered documents of great value and importance. During 1942 and 1943 Broadway continued to escort Atlantic convoys. On 12 May 1943 she joined frigate HMS Lagan and aircraft from escort carrier HMS Biter in destroying another German submarine, U-89, which was sunk northeast of the Azores. After refitting at Belfast in September 1943 HMS Broadway became a target ship for aircraft and served as such at Rosyth in Scotland until the war ended in Europe. In May 1945 she left Rosyth for Northern Norway with one of the occupation forces. At Narvik, Norway, she took charge of a convoy of German submarines which was sailing to Trondheim.

Decommissioned and sold for scrap in May 1948.