HMS Affleck (K362)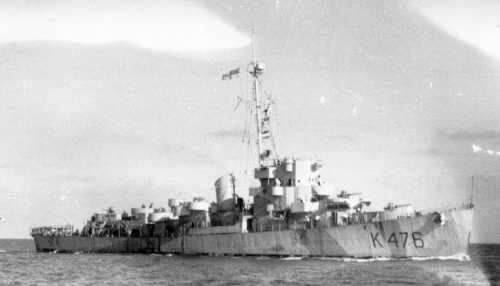 Same Class as HMS Gould above,
Navy:

Royal Navy

Type:
Escort Destroyer
Class:
Captain
Pennant:
K 362
Built by:
Bethlehem-Hingham Shipyard Inc. (Hingham, Massachusetts, U.S.A.)
Laid down:
5 Apr, 1943
Launched:
30 Jun, 1943
Commissioned:
17 Sep, 1943
History:
At 14.14 hours on 26 December, 1944, U-486 fired three Gnats at the 1st Escort Group on patrol off Cherbourg and observed hits after 1 minute 39 seconds and 1 minute 41 seconds and heard a third detonation after 7 minutes. Meyer claimed two destroyers sunk and a corvette damaged. In fact the frigates HMS Affleck (Cdr. C. Gwinner, RN) and the HMS Capel (Lt. B.G. Heslop, DSC, RN) were hit. The latter sank and the other was towed to port, but declared a total loss.

After the war the HMS Affleck returned to the US Navy in Britain, where she was sold on 24 January 1947 and served as mercantile hulk Nostra Senora de la Luz until 1970, when she was broken up.